I recently discovered this new link up at
Love the Grows
and since I missed this last week's I figured I'd use it for filler until the next one goes up. Surprisingly, Jarrod agreed without hesitation. Then he asked what was in it for him. I just shook my head. But then we ordered pizza, so there's his reward.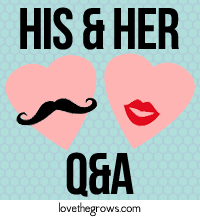 Your house is on fire. What five items do you grab before you leave?
His:
Baby. Cell phone, wallet, keys, and computer.
Her:
Well since Jarrod's got the baby, I'd grab my computer, external hard drive, cameras (that can count as one, right?), purse, and as many clothes as I could.
If you could be/had to be the main character of any movie, who would you be?
His:
I don't know.
Batman?
Ooh, yes. Bruce Wayne. I'm Batman.
Her:
Katniss Everdeen, fo' sho'. Or Hermione except for the fact I'm not British by any means.
What physical feature do you love most about yourself?
His:
My eyes.
Her:
Also my eyes.
Tell us why your name is your name. And if you don't have (or know) an answer, make one up.
His:
My father liked the name. It was Notre Dame's quarterback back when I was born.
Her:
I was named after a busty barmaid in one of my dad's college English essays.
What is the greatest place you've ever traveled to?
His:
Hmmm... Gotta be Chicago.
Her:
I really liked laying on the beach and drinking in Grand Cayman.
Are you a morning person or a night person?
His:
Night. No, morning. Afternoon!
Her:
I can be either, but not back to back. I prefer early morning, it's peaceful.
May 2007
Who is someone you wish you were closer to?
His:
My dad.
Her:
My sister(s).
What quality do you have that you hope your kids inherit?
His:
Musically inclined. She's already showing some.
Her:
My creativity, but hopefully she'll be able to choose one thing and be really good at it instead of doing a little in a million things.
What's your favorite memory with your childhood best friend?
His:
Playing Batman by trying to fly while jumping off my bed.
Her:
Learning how to rollerblade. Pizza to slow down!
If you had to move out of the country where would you move to?
His:
That should be obvious. Japan.
Her:
Canada or England. I'd have to stay in an English speaking country.